See the latest news and updates about Airhart Construction, including new home communities, new homes and home tips & advice.
---
Moving to the Burbs
Saturday, July 22, 2017
Swapping city life to become a suburbanite comes with many benefits. Less traffic, abundant parks, more affordable housing, good schools and communities with many amenities are just a few of the perks.
Living in Lombard
Lombard is a tight-knit town with plenty of activities that bring everyone together. Block parties are a great way to get…
---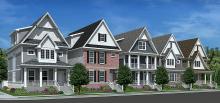 New Homes at Wesley Place Now Available in Downtown Wheaton
Saturday, July 1, 2017
Airhart Construction unveils their latest new home community, Wesley Place. Located on the edge of downtown Wheaton, Wesley Place offers convenience, charm and an unbeatable location.
Living in Wheaton
If you are looking for a walkable downtown area, this is it. The homes at Wesley Place are close to everything downtown Wheaton has to offer…
---
Readily Available Homes
Monday, June 19, 2017
Airhart Construction offers homes in a variety of styles to accommodate different tastes, budgets, and needs. Airhart homes are built in desirable towns and walkable locations, to allow homeowners to live active lives and enjoy natural amenities right in their own backyards.  Here is a list of readily available homes:
The Blanchard at…
---
Courthouse Square to Begin Final Phase in Wheaton
Saturday, May 20, 2017
Airhart Construction is proud to showcase its newest community in Wheaton, Illinois. These Georgian style rowhomes are packed with desirable features and walkable to all the activities, dining and shopping offered by downtown Wheaton. Explore Courthouse Square today and find out if this exclusive townhouse community is right for you.
…
---
Airhart Construction Opens Park Place
Saturday, March 4, 2017
Airhart Construction is excited to introduce their new community in Lombard, Illinois: Park Place. This new home community is in the heart of downtown Lombard, offering homebuyers who work in Chicago an easy commute and a single-family home one block from Lombard's numerous in-town amenities. Get an exclusive look at this new community today.
…
---
River Views and Walkable to Town: The Bennett House by Airhart Construction
Friday, January 27, 2017
Airhart Construction is pleased to premiere the Bennett House, a modern home with scenic views of the Fox River. This custom 3-bedroom, 2 1/2-bathroom home is walkable to downtown Geneva and packed with more amenities than we can list! Get a sneak peek today.
Inside the Bennett House, A Modern 3 Bedroom Overlooking the Fox River
The…
---
Airhart Construction Introduces Wesley Place
Sunday, September 18, 2016
New enclave of five homes in downtown Wheaton
Neighborhood features flexible home designs, front porches and courtyards
Busy people seeking low maintenance living in a thriving downtown area need look no further than Wesley Place single family homes in Wheaton. Wesley Place is Airhart Construction's latest community located at the…
---
Airhart Construction Begins Sales at the Cottages at Park Place
Monday, June 27, 2016
Low-maintenance homes near downtown Lombard from the low $400s
Airhart Construction recently announced sales at its newest community: Park Place in Lombard with six single-family, cottage-style homes offering low-maintenance amenities. Located conveniently near downtown Lombard on the corner of Park Avenue and West Grove Street, Park Place…
---
Airhart Construction Debuts Sales At Dana Park Estates in Oak Brook
Wednesday, May 21, 2014
Airhart Construction Debuts Sales At Dana Park Estates in Oak Brook
Custom home packages from $850,000Airhart Construction recently announced plans to build homes on the five home sites at its latest location: Dana Park Estates in Oak Brook, a private, gated cul de sac community situated near the south east corner of Meyers Road and 31st…
---
Airthart Construction: Fifty Years of Constantly Improving Matters to Today's Homebuyer
Saturday, March 22, 2014
Chicago, IL, March 19, 2014 –(PR.com)– This year, Airhart Construction will see its 50th year building homes. Beginning in 1959 as a remodeling and painting company, they built their first home in 1964 in Wheaton and have grown to become a solid and respected home builder throughout DuPage County.
Fifty years is indeed a long time to be in…
---