See the latest news and updates about Airhart Construction, including new home communities, new homes and home tips & advice.
---
Bathroom Design: Custom Shower Layout
Saturday, May 20, 2023
As you plan your new home, you want to spend some time thinking about your shower, because it will probably be one of your most used amenities.  In this video, Court Airhart discusses design features and options possible for your new shower. He reviews features such as surface materials, shower door and glass wall designs, proper sizing, etc. 
---
KITCHEN DESIGN: APPLIANCE PLACEMENT
Thursday, March 23, 2023
As you design your new kitchen the location of your appliances will greatly impact your use and enjoyment. In this video, Court Airhart discusses how you plan to work in your kitchen will help you design your appliance layout. Issues such as the number of cooks in the kitchen, as well as types of appliances are reviewed.…
---
What to think about as you plan your kitchen layout and cabinet features
Thursday, March 16, 2023
The kitchen is the most used room in your home and planning wisely can make every day living easier.  In this video, Court Airhart, reviews many of the cabinet features available for your new kitchen.  The options range beyond the size, location and design of the doors and drawers, but to the features hidden in those…
---
What to think about as you choose lighting for your new kitchen
Friday, March 10, 2023
The kitchen, often considered the heart of the home, requires special attention as it is a space you will probably use more than any other in your home.  In this video, Court Airhart reviews the key kitchen lighting issues you want to evaluate as you plan for how you will use and enjoy not only the work space, but what…
---
I FOUND A LOT. WHAT ARE THE NEXT STEPS FOR BUILDING A CUSTOM HOME?
Tuesday, January 3, 2023
Building a new home is an exciting time.  Envisioning the new kitchen, bathrooms, specialty rooms and how the new home will enhance your life is very exciting.  So where do you start?  Airhart Construction has designed a three-part video series that guides you through selecting and evaluating a lot, as well as the design…
---
ASK THE BUILDER: At Airhart Construction, do you allow custom changes, or any changes?
Saturday, November 12, 2022
As a custom builder, we love the process of working with our current home plans and customizing it to meet our client's needs. 
Working in tandem with our sales team, you will review home plans and create a list of customization ideas that you desire in order to make the home uniquely yours.  These custom changes could include modifying the…
---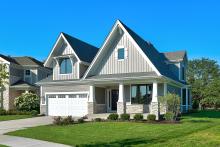 The Harrison: Airhart Construction's Newest Model Now Open
Sunday, April 3, 2022
The Harrison: Airhart Construction's Newest Model Now Open
Airhart Construction announces the opening of a new model home, the Harrison, a design available in the Munhall Glen community located in St. Charles, Illinois. The community of Munhall Glen includes 50 gorgeous custom homes…
---
Last chance to own a new home at Stafford Place!
Sunday, November 7, 2021
Airhart Construction's Stafford Place community is nearly complete with only 1 quick move-in home remaining.
Single-Family Cottage Homes that Live Like Townhomes
These single-family cottage rowhomes at Stafford Place offer spacious living with elegant design features and distinctive exteriors. The Rowhomes are not townhomes and there…
---
The Build Process
Saturday, April 3, 2021
Building on your Lot
The Build Process 
You have found your lot and gone through the design process with the team at Airhart Construction, what happens next? In the following video, Court Airhart takes you through the construction process of your new home from applying for building permits to you moving in. After watching this video…
---
The Design Process
Sunday, March 28, 2021
Building on your Lot
The Design Process 
You have taken the first step in planning for your new home, you have found your lot.  In the following video, Court Airhart takes you through the steps the team at Airhart Construction helps you navigate in planning your new home.  Court discusses the many important items to evaluate,…
---