See the latest news and updates about Airhart Construction, including new home communities, new homes and home tips & advice.
---
MODERN PRAIRIE CAVALCADE HOME
Saturday, October 10, 2020
This Custom McAlister home has many amenities including extra wood flooring, a luxury main bathroom with a custom tile walk-in shower, a well appointed custom kitchen and many designer features. Stafford Place offers a townhouse life-style without attached walls. This home is located at Lot 19 Stafford Place, 28W761 Stafford Place,…
---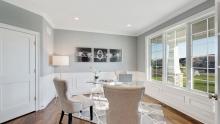 Pocket Office
Monday, July 6, 2020
In what may be the new normal, it is important more than ever to think about how the designs of our homes help us achieve a balanced work from home environment.
The "Pocket Office" is one work from home option.  What is a "Pocket Office"?  They are small spaces that may be off the…
---
Away Rooms
Monday, June 8, 2020
As open floor plans have gained popularity for a less formal life style and for entertaining friends and family, some of the benefits of the open floor plan can come in direct conflict with privacy, noise transmission, and peaceful coexistence.  As we design open floor plans we constantly keep in mind the "Away…
---
Dual Use Space and Home Office
Monday, June 1, 2020
In what may be the new normal, it is important to think about how the designs of our homes help us achieve a balanced work from home environment. In fact, it is really important to understand how spaces we once thought of for a specific use, do not need to lose that usage as we start to use them as a home office.…
---
The Oakfield Custom Ranch is the newest home for sale by Airhart Construction
Saturday, April 11, 2020
This new, almost completed, custom ranch home is now available for viewing by appointment only. Please Call Christy Whelan at 630-665-5700.
https://www.airhartconstruction.com/quick-delivery/modern-traditional-ranch-fisher-farm-winfield
---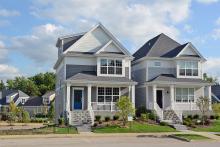 New Cottage Style Rowhome with Roof Terrace Now Open at Stafford Place
Saturday, September 14, 2019
Warrenville, Illinois - Airhart Construction announces the opening of the McAlister model at Stafford Place in Warrenville. Fully decorated, the McAlister model is a cottage-style single family home complete with an attached two-car garage, a spacious front porch, and a roof-top terrace ideal for entertaining. 
Step Inside the McAlister…
---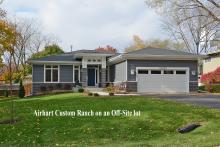 Custom Built on Your Lot or Ours
Friday, May 24, 2019
For more than 50 years Airhart Construction has served the Chicagoland area building custom homes with distinctive design, innovation and only high-quality materials. Home buyers deserve a unique home built by craftsmen known for their attention to detail and exceptional skill. Airhart Construction delivers this experience.
A Hands-on…
---
Airhart Now Offers Cottage Style Rowhomes at Stafford Place in Warrenville
Saturday, March 23, 2019
Warrenville, Illinois – March 2019 – Airhart Construction invites you to discover the new Cottage Rowhomes at Stafford Place. Airhart has recently completed a new decorated Rowhome model to tour as well as two for immediate occupancy.
Located in the heart of Warrenville and minutes from parks and preserves, the Stafford Place community…
---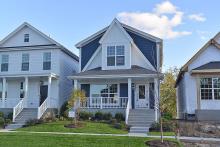 Airhart Construction Builds Energy Efficient Homes
Saturday, February 2, 2019
The McAlister at Stafford Place
Airhart Construction has been committed to building top-quality energy efficient homes for more than five decades. As an innovator in the construction business, incorporating the latest in energy efficient products and materials is an important part of our process. Products like
York 95.5% efficient…
---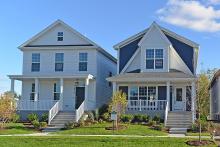 Airhart Offering Quick Move-in Homes in Winfield, Wheaton, and Warrenville
Saturday, November 17, 2018
Airhart Construction Quick Delivery Homes Are Now Available in Prime In-town Locations
Northern Illinois – A quick move-in home from Airhart Construction is ready and waiting for its new owner, a single-family residence with custom finishes and features, all situated in a convenient in-town location. The spotlight shines on five current…
---